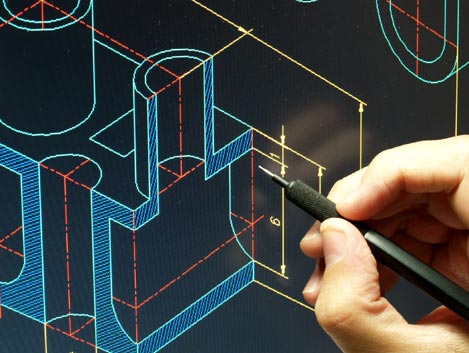 3D Computer-Aided Design Services in Perth
Just like every aspect of modern life, computers have become absolutely vital tools in the product design process. Indeed, it is now possible to design and test an idea, using CAD and CAM software to identify design flaws and manufacturing challenges, as well as find solutions, all entirely in the digital realm.
The days of physically manufacturing countless iterations of a design have been relegated to the past by 3D CAD (Computer-Aided Design) software. You can now produce a truly refined prototype, saving you countless hours and tons of money. All you need is a partner that can offer you reliable, professional CAD services, on an ongoing basis. That's where we at NF Engineering come in.
With over 30 years' experience in general and precision engineering, we've been around long enough to understand how and why this technology was developed and we're savvy enough to make use of it at a professional level. Unlike many of our competitors, we are owner operated. When a qualified machinist with over three decades' experience oversees each and every job that we take on, it shows in the end product.
So what is CAD/CAM design? It's simply the process of using specialised 3D modelling software to create a detailed digital model; even moving parts can be programmed into the model, in order to check clearances and troubleshoot issues. The software then outputs a series of tool movements, which will direct a machine controlled by CNC (Computer Numerical Control).
Not only will you be able to produce a part that is exceptionally accurately machined, but once the final digital model has been created, you'll be able reproduce it as many times as necessary, without ever having to compromise accuracy.
When you're paying for CAD/CAM design services, working with an inexperienced operator is a very risky endeavour. If your operator is anything less than a qualified, professional user, it will take significantly longer to create and refine your 3D models, time that you will end being charged for. At NF Engineering, our CAD design team has decades of experience, enabling us to work efficiently and accurately, vastly reducing turnaround times and ensuring that you aren't overpaying.
When time is short and you need professional help with CAD/CAM design services, go straight to the experts that Perth's manufacturing sector has come to trust. Call NF Engineering now.